When the warmer months arrive here in Victoria BC, our clients always reach out with questions about exterior painting projects. Since we love getting these questions and sharing advice, we thought we would share our recommendations here too! If you are looking for the perfect paint for your Victoria BC exterior painting project, look no further.
With all of the different exterior paint options out there, choosing the right paint for your project can be overwhelming. When it comes to any residential exterior paint project, high quality paints are our go-to products. Why? We have used many different paint products over the years, and our team has seen the results that high quality paints produce first hand.
Here are two reasons why our team recommends high quality paints for residential exterior painting jobs: 
Durability/Value for Money
Depending on the scope of the project and the price of paint,the cost of exterior painting is generally between 70% to 95% labour and 5% to 30% paint. High quality paint is more durable and will save you money in the long run because you will have to re-paint less often. It almost always makes sense to spend an extra 10% to 15% more upfront to use high quality paints, as it can add years to the life span of your exterior paint job. When it comes to paint, you generally get what you pay for; however, if you're on a tight budget, let us know and we can recommend the best value of money products that your budget will allow.

Fade Resistance
Low quality exterior paints are made with cheap pigments (silica, clay, talc et cetera) that are prone to fading and losing their colour. High quality paints use expensive, but long lasting pigments such as "titanium dioxide" and other proprietary pigments that ensure your exterior paint job will maintain its true colour for years to come.
So what determines a high quality exterior paint? How do we choose the best exterior paint product?
Exterior paint has four main components:
Resins:
The binders that stick together and form the paint film once the solvents evaporate.
Pigments:
The components that give paint its colour and opacity.
Solvents:
The liquids that suspend the paint's binders and pigment. The liquid solvents evaporate, leaving behind the film of binders/pigments.
Additives:
Components that are added to control dry time, application properties (ease of use), mildew, and much more.
High quality paint has higher "solids" content. Solids are the binders and pigments that are left behind once the solvents evaporate. Every paint has a Technical Data Sheet or "TDS," which is available for free online. Look at the product's TDS to determine its solids content. If a paint has a high solids content, it likely indicates a good product if its resins and pigments (solids) are of high quality. Look for high solids content and 100% acrylic resins.
High quality exterior paint also typically has a higher dry-film thickness. Look on the TDS for the dry-film thickness…a thicker coat of paint is more durable.
Comparing Some of Our Preferred Products:
Top of the line:
Benjamin Moore Aura Exterior (Flat):
Solids: 46%
Dry Film Thickness: 2.1 – 2.9 mils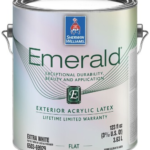 Sherwin Williams Emerald Exterior (Flat):

Solids: 42%
Dry Film Thickness: 2.2 – 2.7 mils
Good Value Options:

Benjamin Moore Ultra Spec EXT (Flat):

Solids: 37.4%
Dry Film Thickness: 1.5 mils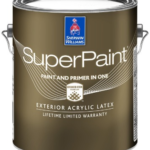 Sherwin Williams SuperPaint Exterior (Flat):

Solids: 37%
Dry Film Thickness: 1.5 mils
Lower Quality Paints Our Competitors Often Use:
Dulux Weatherguard (Matt):

Solids: 34%
Dry Film Thickness: 1.3 – 1.5 mils
Cloverdale Covercoat:

Solids: 36%
Dry Film Thickness: 1.5 – 2.0 mils
As you can see by looking at the data from a few different exterior paint lines, the solids content and dry film thickness can vary immensely. Aura Exterior, one of the best and most expensive exterior paints available, has 10% more solids content and up to almost double the dry film thickness of SuperPaint (a good mid-quality product). Aura is essentially, two coats of paint in one.
See for yourself why we recommend high quality paints to anyone looking to complete an exterior painting project around their Victoria BC home! If you need help starting your exterior paint job, or are looking for a professional team to get the job done right, contact us today.